Women Fight Against Misogyny
Revolution is often waged with weapons. Sometimes through protests. In the case of the #MeToo movement, the revolution was waged with a hashtag. However, it soon extended far beyond the hashtag. In a fight against misogyny in a still patriarchal society, several strong women came forward to testify against the injustices they suffered at the hands of numerous men in positions of power.
While many women shared their stories, others showed their support by simply sharing #metoo on their social media accounts. The goal – to show that they were also survivors of ignorant misogyny. From inappropriate comments, hostile work environments, and all the way up to sexual assaults, women were standing up in droves.
Enough has been said about the perpetrators of these crimes and our intention is not to point out any specific individual who was called out for disrespecting women. Instead, we want to share a story about how Beauty Network® turned down an opportunity to work with an individual based on their disrespect of women. We also want to shed some light on how prevalent misogyny is not just in the entertainment industry, but the beauty industry as well.
Beauty Network® provides all original and aggregated content from diverse sources to appeal to a multicultural audience. We believe that sexism, racism, homophobia, religious intolerance, and other forms of bigotry and prejudice have no place anywhere, much less a network dedicated to sharing beauty with the world.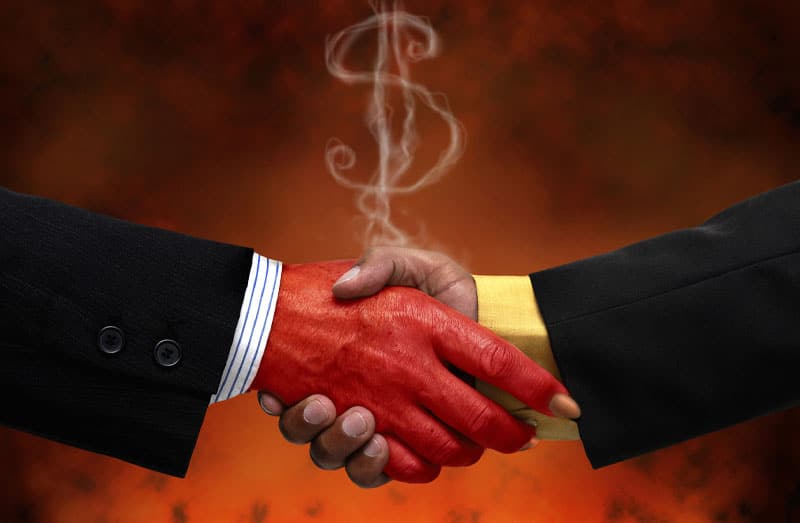 Turning Down a Deal From the Devil
Beauty Network® is proud to have interviewed various female movers and shakers in the beauty industry. From Dr. Catherine Begovic to Kelly Osbourne, and many pro-women male beauty industry leaders like John Paul DeJoria, we ensure our dealings remain as positive as possible. Our content has always been hosted by strong female hosts such as Julie G, Parris Wells, Violeta Meyners, and Venus Lau. Our goal in the expansion of Beauty Network® is to work with talented women in the industry. Furthermore, we align with men who support equality among the sexes and conduct themselves appropriately.
While seeking to further expand upon our vision through network distribution, an opportunity came to Beauty Network® in the past year. This offer came from a major entertainment industry leader. This individual offered to finance several of Beauty Network's plans. This included smart tv network streaming, all the way up to television broadcasting.
However, the offer came from an individual in the entertainment industry who was later accused of sexual misconduct by over a dozen women. The deal was months in development. Mere weeks from being finalized. It was devastating news. Devastating for Beauty Network. But more importantly, for the women who had been abused.
But the beauty industry has a dirty little secret. When things like this happen, it isn't uncommon for one side or the other to suggest working a deal through silent partnerships. Frequently, this helps keep the spotlight off the source of the investment. This exact scenario was suggested by the party representing the accused individual. Beauty Network® vehemently rejected the offer. It wasn't just a matter of public opinion, it was a matter of ethics. Misogyny has no place in the industry and certainly no place in our company.
A Shift in Perception
The misogyny that exists in the beauty industry has many active participants. However, things are beginning to change. Misogynistic practices and norms are slowly but surely being broken down and exposed for what they are. The reason is that the perception of women and their role in everything from the entertainment industry to the beauty industry is changing. Fortunately, this change is for the better. Finally, women are being recognized for their contributions in an unfairly male-dominated world.
The shift is apparent. A transition in leadership roles is happening. All the way down to the content produced for entertainment. Women are taking lead in the storylines of multimillion-dollar budgeted films. Furthermore, they're changing the conversation when it comes to beauty.
Just look at the shift in the perception and sexualization of a female heroine in the 2017 film Wonder Woman. Compare Alicia Vikander's Lara Croft in Tomb Raider (2018) to Angelina Jolie's earlier take in 2001. A shift has happened. The portrayal of women is changing. Additionally, there are plenty of examples popping up all over in society. And it's about damn time!
Out With Misogyny, in With Equality
Of course, the beauty industry is no different. When it comes to fashion, companies like Victoria's Secret have turned to plus-sized models as of late. They're breaking the mold. Reconsidering the social "norms" of beauty only being apparent on a size-0 model. Additionally, beauty tips have shifted from just talking about how women can create the perfect smokey eye to showing women how to be confident in their own skin, with or without makeup.
This appreciation and accurate depiction of women is a major game-changer. Misogyny may soon be a thing of the past. Eventually, we hope these changes will crush the ignorance and restructure the power dynamic. Finally, this shift will ultimately eliminate the views that see women as property or victims.
The women who have come out during the #metoo movement and the countless others that will emerge throughout this revolution will change the perception of women on a global scale, stripping the bigots in power from continuing to exploit and manipulate others for their own personal gain.
Beauty Network® supports these women to their fullest and will continue to fight for equality among the sexes in all that we do. That starts with building a strong team of like-minded individuals willing to continue this journey with us into a brighter tomorrow. To learn more, reach out to Rob E. Angelino on LinkedIn.